In the middle of a pandemic with more economic uncertainty than ever, you would think that companies would abandon old planning practices. The same was said post the financial crisis. In spite of this many companies continue to use budgeting as their main yearly planning exercise. Here is how one leader in the electronic manufacturing industry put it.
"We tried abandoning the budget in the past, but it turned out we needed to do even more steps to get the transparency we needed. In some way, we discovered that the budget is just too big to fail"
Still, it does seem like there is a movement towards alternative methods or at least mixing up approaches to get multiple views on what could happen. We have run two surveys recently and received almost 400 responses. Only a little more than 20% said they expect to use the traditional budgeting process when planning for 2021.
We thought that was very interesting and checked in with the senior finance leaders we have shared insights from in the past weeks. We wanted to learn if they were making any changes to their processes. We have summarized their thoughts into the below process which to some extent is a modernized planning process.
There are three broad stages of the process.
Generate numbers by taking a mixed approach to numbers that are within your control i.e. OPEX and SG&A and what you cannot control i.e. Sales
Discuss numbers in what could be termed as the classic budget process, where individual business units and departments discuss with corporate about their input. This input is both challenged by corporate and combined with scenario modeling. In the end, corporate will decide if what has been submitted is enough to reach the strategic ambition and usually overlay the numbers with certain corporate activities.
Execute numbers by cascading targets back to the units, which typically are stretched due to the corporate overlay. In addition, companies usually run a rolling forecast process and a separate investment process to ensure resources can be allocated to projects throughout the year.
Now let us check in with the leaders to learn how each of them is tackling the planning challenges ahead of them.
A mixed, not changed, approach wins the day
There are many factors impacting how you do long-range planning. If you are in the machinery industry and work on projects with a long duration, you likely already have good visibility into 2021. If you are in the tech industry maybe not so much. All the leaders we spoke to seemed to be taking a mixed approach to plan for 2021. Here is how a senior leader from the tech industry will approach the planning process.
"We will not make many changes, but be more specific on our assumptions. We use a predictive analytics model for Sales and a traditional approach for costs"
You can deduct from this that what you know and have control over i.e. your own cost base you can take a traditional approach to it. In areas where you have less control, you might want to build some more sophisticated models to predict. These models can use a range of internal and external inputs to come up with the most likely scenarios.
This control vs. non-control approach can extend to large parts of the P&L and balance sheets according to a senior leader in the machinery industry whose company has good long-range visibility.
"We do not expect to make any changes and will run an exercise to gather a 5-year plan, a budget for 2021, and with a rolling 3-year forecast on sales. We can do this because we work with long-term projects that give good visibility"
At best companies might decide to run some additional exercises at the top level to challenge the bottom-up input. Additionally, it will work as a risk assessment of what the company should plan for. Here is how a senior leader in the building materials industry will approach it.
"We will develop some most likely scenarios and pair that with the bottom-up input we get from our units around the world. Then we will develop a best- and worst-case scenario and consider the risks and opportunities. This will form the base of discussing what will be the right risks to take"
And that is probably the best you can do. Get to a point where you understand the risks and opportunities in your plan so you can make conscious decisions about how to mitigate risks and maximize opportunities. It is this simple model that all companies should follow.
Despite all the turmoil and change in the world, our senior leaders do not expect to make many changes. However, it could be that it is like our leader from the electronic manufacturing industry said it: the budget is just too big to fail!
Could there be a better process though?
It is still hard to understand that despite all the change and the often-heard bickering about the planning process that most companies do not expect to change for 2021. We wanted to challenge the senior leaders and asked them if there would be a better planning process than what they follow now.
Electronic manufacturing industry: A rolling forecast that gives you 6-months details and 6 quarters high level
Tech industry: A 3D planning model with markets, competitors, and macro drivers would be a good starting point and develop a range of what-if scenarios from there
Building materials industry: If anything, it would be to prepare for more radical scenarios
Utility industry: Use much more predictive modeling
It is also interesting to see that none of them mentioned a process like Zero Based Budgeting or even Beyond Budgeting. You would think that these more radical approaches would see a renaissance in this environment. Zero Based Budgeting was also the clear winner in Anders' recent LinkedIn poll.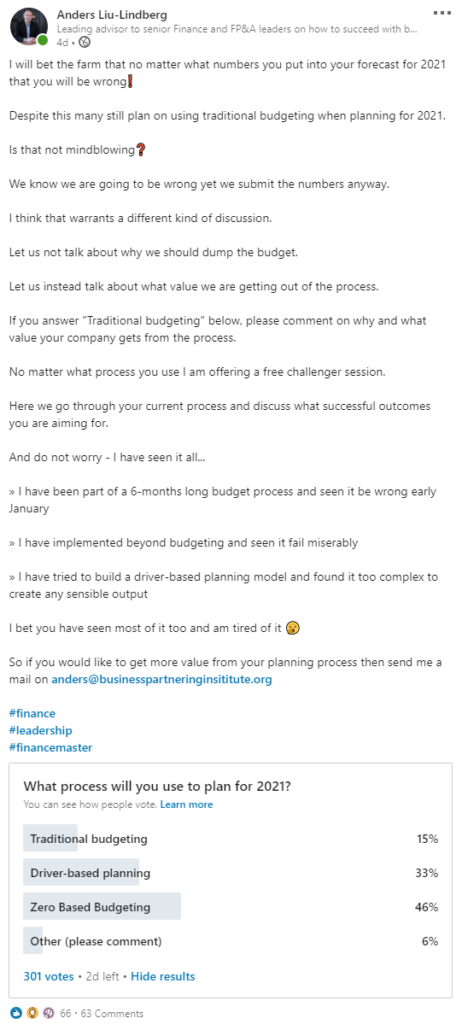 Going back to the tech leaders point, though, the Zero-Based approach likely only works for line items that you control. It probably would not work for a full P&L for instance.
Perhaps the answer to the budget being too big to fail or not is that the process prevails but the way we get to specific details varies across line items. Hence, the process is more about the discussions around what risks to take than regarding producing a set of numbers. You should focus on what decisions the process is supposed to optimize rather than the numbers it produces. Then you will be in much better shape to make better decisions and likely also execute better.
What process will your company follow to plan for 2021? Do you think it will change compared to 2020 and what process do you think would be most optimal? With uncertainty at an all-time high, it is time to shift focus from the numbers to the conversations around how to make the best case happen. Are you ready for running those conversations?
Source: Linkedin